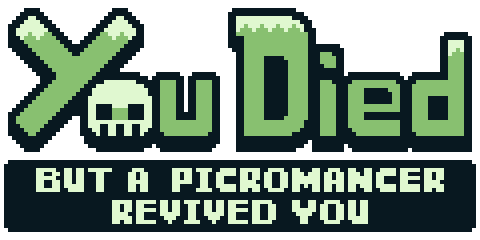 You Died But a Picromancer Revived You
A downloadable game for Windows
Tiny spin off game of You Died But a Necromancer Revived You.

This time around there may only be spikes but the entire floor is hidden! Use the clues given by the nonogram to find your way to the stairs, be careful not to stumble onto any spontaneous spikes along the way!
The game is 20 levels long, however, once you reach the end randomly generated levels become available to keep on playing endlessly!

------------------------------------

SOME STUFF:
- You can play with keyboard or gamepad
- Next to the executable there is an settings you can use
- Press R+L+B (keyboard) or RT+LT+B (gamepad) to change palette/shader in-game
- Press CTRL+R if you want to erase your savedata

-----------------------------------

A game by
Jaime Gifte - Pixels & Code
MDLune- Game Box Art
Rabid Tunes - Music
------------------------------------
Download
Click download now to get access to the following files: